Psychedelic / Garage / Obscure / Rare 8-Track Tapes
This page is the cream of what I have to trade or sell, and I would prefer to trade for items on my wantlist (these prices are irrelevant if you have tapes I want). Please refer also to the regular rock page and the dollar tapes page as there may be more of this type of stuff listed there (generally in somewhat lesser condition). On this site as a whole, most tapes are $5 or less, so check out the other pages if these are too pricey for you. I find fewer and fewer of the rare '60s era tape versions of this type of music each year, so don't wait too long if you are interested in collecting these! Demand for 8-tracks is still quite low, fortunately...
**I am always buying similar items in ALL tape formats as well as on VINYL LP.** TOP WANTS: Hunger- Strictly From Hunger (Ampex), Aggregation- Mind Odyssey (Ampex), Freeborne-Peak Impressions (Ampex), Christopher (Metromedia), Chrysalis- Definition (MGM), Ill Wind- Flashes (ABC), Velvet Underground- first two on Verve in Ampex 'protective cap' sleeves, Mothers Of Invention- Freak Out & We're Only In It For The Money in Ampex 'protective cap' sleeves, Pink Floyd- Tower titles in GRT pic boxes, many more, see my wantlist page!
Only one copy available of each tape unless a quantity is noted in (parentheses) immediately before item price.
Ginger Baker-At His Best-Polydor-SS; h; TS; red cart, Ampex type box; '72 double-play comp of mostly Blind Faith / Airforce tracks, killer stuff! $4
Jack Bruce-Songs For A Tailor-Atco-VG+; h; GRT type white LearJet (roller replaced); essential UK prog oddity solo debut from ex-Cream bassist $2
:-At His Best-Polydor-SS; TS; 2-tape set in Ampex-style boxes, shrinkwrapped together; shrink torn, labels sun-faded a bit $15 OR same set but used (not shrinkwrapped together, obviously): M-, h; TS $10; KILLER double set comp of his 3 Atco LP's, really beats almost anything else I could name from the era, nothing like Cream (except for the freaky Pete Brown lyrics), more like weird prog-rock mixed with jazz, in fact this is closer musically to those UK-only Pete Brown & Battered Ornaments / Piblokto LP's on Harvest than anything else!
Colosseum-Live-WB-M-; LS/TT; black Ampex in title sleeve (EX); double play $8 OR EX; h; black Ampex; double play $5
Country Joe & The Fish-Here We Are Again-Vanguard-M-; white Ampex; fresh pads; TS (sleeve is VG) $6
:-Greatest Hits-Vanguard-VG+; fresh pads $3
Cream-Wheels Of Fire, Volume 1: In The Studio-Atco-VG++; white Ampex, roller replaced; pretty scarce $5 OR very rare earlier version w/ 3-piece labels (would have come in 'protective cap' box), VG-, white Ampex, roller replaced, plays fine, tape has been transferred into a replacement white shell (orig case had bad melted roller and was unsalvageable), top label is OK but worn, bottom label is long gone, small title label is badly worn and taped on $2
:-Live Cream Vol. II-Atco-M-; LS/TT; h; grey Ampex $8
Donovan-Catch The Wind-Hickory-VG+; PB; white GRT in pic box; fresh pads; box is VG (somebody defaced Don's pic w/ moustache & glasses...) $3
:-Greatest Hits-Epic-VG+; white cart orig; fresh pads $3
The Doors-The Soft Parade-Elektra-VG+; white Ampex; LS/TT; roller replaced; rare '69 orig in green-silver title sleeve (VG++) $8
Family-Family Entertainment-Reprise-M-; LS; h; yellow cart orig $8
Fat Mattress-Atco-M-; LS/TT; h; white Ampex; fresh pads; title sleeve still in shrink $15
Fire & Rain-Mercury-SS; LS $4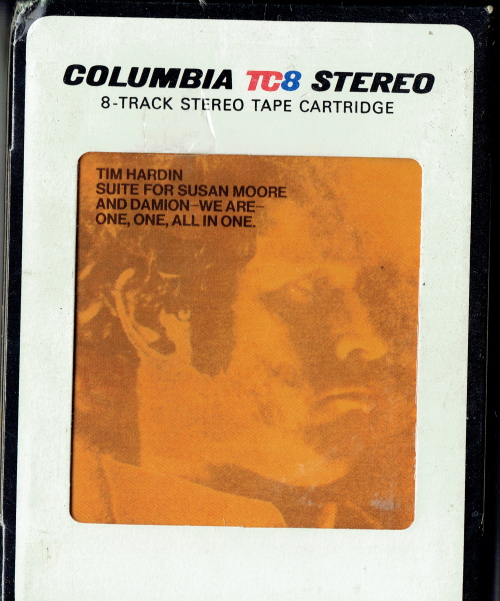 Tim Hardin-Suite For Susan Moore & Damion-Columbia-SS; LS $8
Dan Hicks & His Hot Licks-Where's The Money?-Blue Thumb-M-; '72 black Ampex orig of ex-Charlatans classic $5
Incredible String Band-No Ruinous Feud-Reprise-SS; PB; uncut '73 pic box orig $3
Iron Butterfly-Ball-Atco-VG++; white Ampex, roller replaced $4 OR VG+; white Ampex; fresh pads & splice $3
:-Iron Butterfly Greats-none-VG+; fresh pads & splice; generic boot w/ yellow labels & italic 'typewriter' font, really cheesy looking & very poor sound quality, must be rare! $3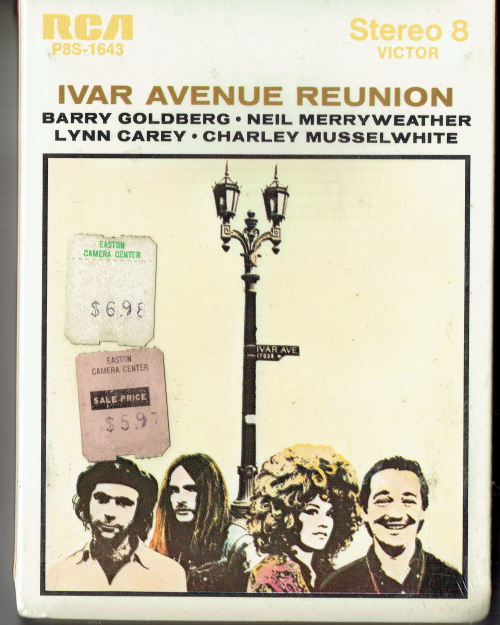 Ivar Avenue Reunion-RCA-SS; PB; Barry Goldberg / Neil Merryweather / Lynn Carey / Charley Musselwhite $8

The Jaggerz-We Went To Different Schools Together-Kama Sutra-VG+; white Ampex $4

Tommy James & The Shondells-Best Of-Roulette-VG++; white GRT; fresh pads $4

Jefferson Airplane-(Grace Slick & The Great Society)-How It Was-Columbia-EX; LS; h; fresh pads $8

Paul Kantner & Grace Slick-Sunfighter-Grunt-EX; LS $2

The Kingsmen-Greatest Hits-Wand-VG++; white Ampex; roller replaced $5

Lighthouse-Thoughts Of Moving On-Evolution-EX; LS/TT; swol; black Ampex in title sleeve (VG++, writing on sleeve) $3

Malo-Evolution-WB-SS; PB; '73 pic box orig, not cutout $5

Matthews' Southern Comfort-Later That Same Year-Decca-SS; LS $4

Midnight Cowboy-OST-UA-EX; fresh pads; silver "Sonic Spectrum" end cap $4 OR VG++; fresh pads; swol $3

Steve Miller Band-Brave New World-Capitol-EX; LS; fresh pads; cover art is a highlight of the pic in the center of the LP jacket! $15

Moody Blues-In Search Of The Lost Chord-Deram-EX; LS/TT; white Ampex in blue-green title sleeve (sleeve is VG+); roller replaced $5 OR VG++; white Ampex; roller replaced $4

Mountain-Nantucket Sleighride-Windfall-VG++; fresh pads & splice; white cart GRT $5

Teddy Neeley-Capitol-EX; LS; slt tol; pink label Lear Jet cart, new splice & roller; cool '67 L.A. AM pop-rock (this album is actually by The Teddy Neely Five) from later Jesus Christ Superstar star $6

The Pop-Rock Scene Vol. I-RCA-SS; LS; "Variety 8" sleeve; tape-only comp w/ Myrth, Zager & Evans, Lighthouse, etc $3

:-Vol. II-RCA-SS; LS; "Variety 8" sleeve; tape-only comp w/ Grapefruit, Youngbloods, Guess Who, John Hartford $3

:-Vol. III-RCA-SS; LS; "Variety 8" sleeve; tape-only comp w/ Glass Prism, Jefferson Airplane, Nilsson, Friends Of Disctinction $5

Rock-In!-RCA-SS; LS; "Variety 8" sleeve; tape-only comp w/ Jefferson Airplane, Guess Who, Main Ingredient, Friends Of Distinction $3

Steel River-A Better Road-Evolution-SS; PB; GRT in pic box $5

Steppenwolf-Early Steppenwolf-Dunhill-VG+; fresh pads; white GRT; writing on label $4

:-At Your Birthday Party-Dunhill-VG++; white LearJet / GRT, roller replaced $5

:-Live Steppenwolf-Dunhill-VG++; fresh pads; blue GRT w/ white label $4 OR VG++; white Ampex; roller replaced $4

Three Dog Night-Suitable For Framing-Dunhill-M-; LS/TT; in shrink; white Ampex in title sleve; roller replaced $15

T.I.M.E.-Smooth Ball-Liberty-VG+; h; wol; fresh pads; rare '68 CA psych $8

Traffic-Last Exit-UA-EX; h; fresh pads $5 OR VG++; wol; h; fresh pads $3

Truth Of Truths-A Contemporary Rock Opera-Oak-SS; LS; white GRT; 2 tape set w/ Val Stoecklein (Blue Things) (2) $5

Bob Weir-Ace-WB-M-; PB; '72 orig in pic box (EX) $10

Leslie West-Mountain-Bell-EX; ITCC orig in ITCC sleeve $4 OR EX; fresh pads; sawcut; white GRT $4

The Who-Meaty Beaty Big & Bouncy-Decca-VG++; fresh pads; Record Club of America version $4

Youngbloods-Earth Music-RCA-M-; "Custom Edition" (probably '70s budget line RE) w/ cover art on top label $4

:-Sunlight-RCA-SS; LS $4